What Is Communication Worth to You?

Posted by

TallyFox

on 19 December 2014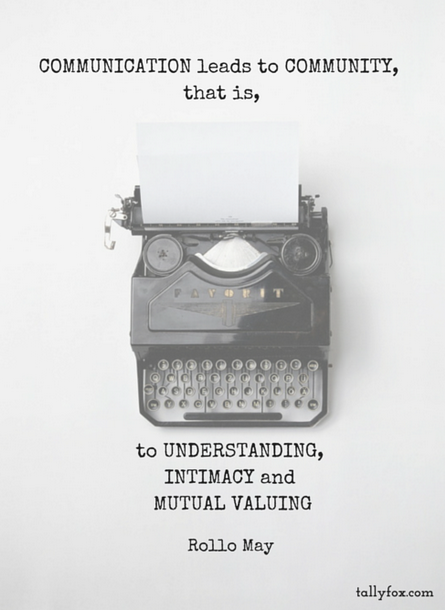 Is your team merely a group of individuals?
Working together, as sharing the same office space, and collaborating with one another, as communicating and sharing skills and knowledge to accomplish the goal, differs.
Organizations and businesses can't apply the same rules to collaboration and communication within teams, however, those rules could be modified and tailored to company's specific needs and values.
Why is it important for brands to communicate well?
Every business sets up their own rules and principles in time, thus one can recognize and identify the reasons a business could fail at collaboration. Unfortunately, communication might be the number one reason.
Why is it important to communicate well?
The definition of communication considers the process of sharing and understanding meaning.
One's ability to communicate is central to self-concept, one's sense of awareness of who you are. One's communication skills are crucial to understanding others – their words, nonverbal gestures, tone of voice, or their written words, which creates a system of signs and clues about who they are, what their values, ideas and goals might be. Active listening and reading influence what you think about yourself and others.
Each person's understanding of communication will reflect on corporate culture and business.
Effective communication is an asset desired by every industry.Tweet
Today, communication skills, both verbal and written, are top personal qualities a potential employer seek. One recent study found that effective employee education and communication were the key to CSR success, where frontrunner companies put a strong accent on training (employee networks), rather than traditional communication models, driven by new tools of communication, such as mobile.
Communication channels are changing; however, effective communication is critical in many ways:
#1 Every employee represents your business or a company, whether in spoken or written form, thus, setting clear rules, responsibilities and roles, brings productivity and understanding of one's specific positions.
#2 Listening and responding, as communication skills, improve staff motivation, thus, create a positive corporate culture while getting the job done.
#3 Not all people respond to all forms of communication, especially today, when we largely communicate though social media. Open, inclusive communication with customers creates a good relationship, drives business and increase revenue.
#4 Good communication improves sales: for 87 % of B2B buyers, online content effects their purchasing decisions (CMO Council).
#5 Online communication brings more self-awareness for brands to succeed in social media.
#6 A company that nurtures open communication, where employees are encouraged to share ideas and concerns, enhances performance and builds strong relationships and trust. A company with highly engaged employees is a community that values their work, and has their best interests in mind. A happy employee is the most productive one.
#7 Effective communication brings effective collaboration, which means, better workflow, improved project management, and focus on results.
#8 Communication is the key to harnessing the best collaborative technology.
Having different definitions and understanding of communication brings barriers to collaborations itself. If you don't agree on precisely what communication is and on its importance in today's modern businesses, your efforts to collaborate effectively will lead to unmet expectations.