The Best Finnish Incubators And Accelerators

Posted by

TallyFox

on 11 August 2015
You certainly know the success stories behind Skype, Angry Birds and Supercell, but did you know that these are Finnish companies?
Finland is fastly growing to become one of the most vibrant startup scenes in the world and country's startup incubators and accelerators are the major enablers of high-growth potential startup businesses. 
Incubators are putting in place proactive measures to help companies grow and speed up their path to (international) market.
Through business planning and development, investment and funding, technology, governance and capability development, incubators and accelerators programs are empowering many young entrepreneurs to start and grow their business.
We compiled a list of the best Finish incubators and accelerators, introducing their goal and focus and specifying the opportunities provided to startups.   
Startup Sauna accelerator was founded in 2012 with an idea to accelerate the innovative business ideas from Easter Europe, Russia and Nordics.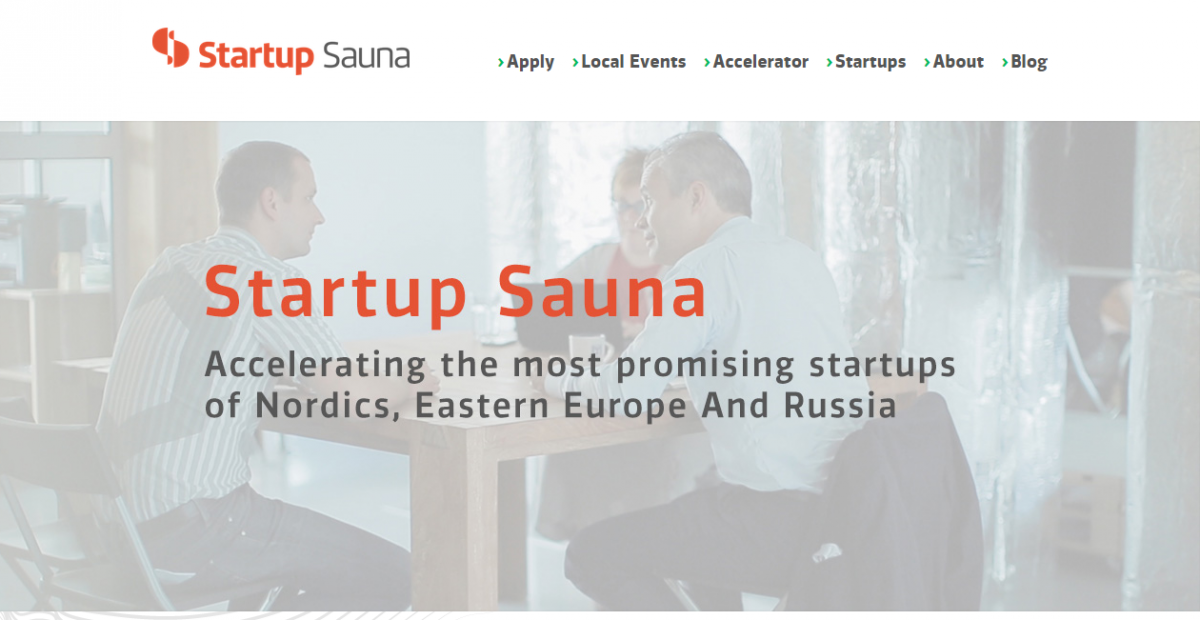 During a five-week program (no equity in the startups), the teams receive quality coaching events on all things related to launching a business. All programs are free of charge, and the event takes place twice a year.
The best teams have an opportunity to meet partners and  investors in US, as visiting Silicon Valley is a part of the accelerator program. Once you get accepted to their program, you will have access to one of the biggest conferences in Europe, Slush, that attracted around 700 investors in 2014.
Summer of Startups (SoS) is a training camp for startups organized by Aaltoes, the largest community of your entrepreneurs in Europe. Aaltoes organizes an accelerator program to help young entrepreneurs create more business and build international connections.

SoS helps early stage startups build their business through a two-month program during the summer. The most talented students and researchers are brought together to enhance Finnish startup community.
As a seed investor and startup accelerator,  KoppiCatch is mainly focused supporting business in the fields of media, IT, e-commerce, analytics, wellness and education.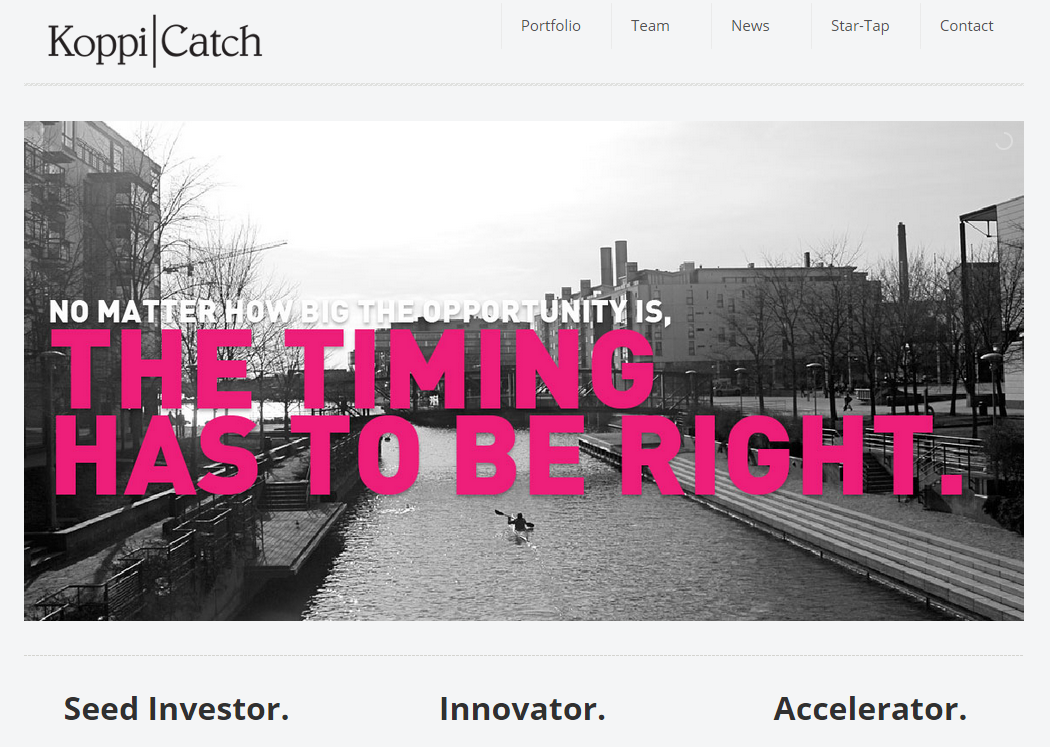 Their aim is to provide resources for the go-to-market phase, empowering business through hands-on involvement and growth strategy.
Their acceleration programmes are time-limited and industry-specific.  A huge part of their support is connecting large corporations with innovative startups and businesses.
Cleantech Invest provides competences, industrial partnership and capital to business focused on generating clean energy and creating solutions for efficient natural resource use.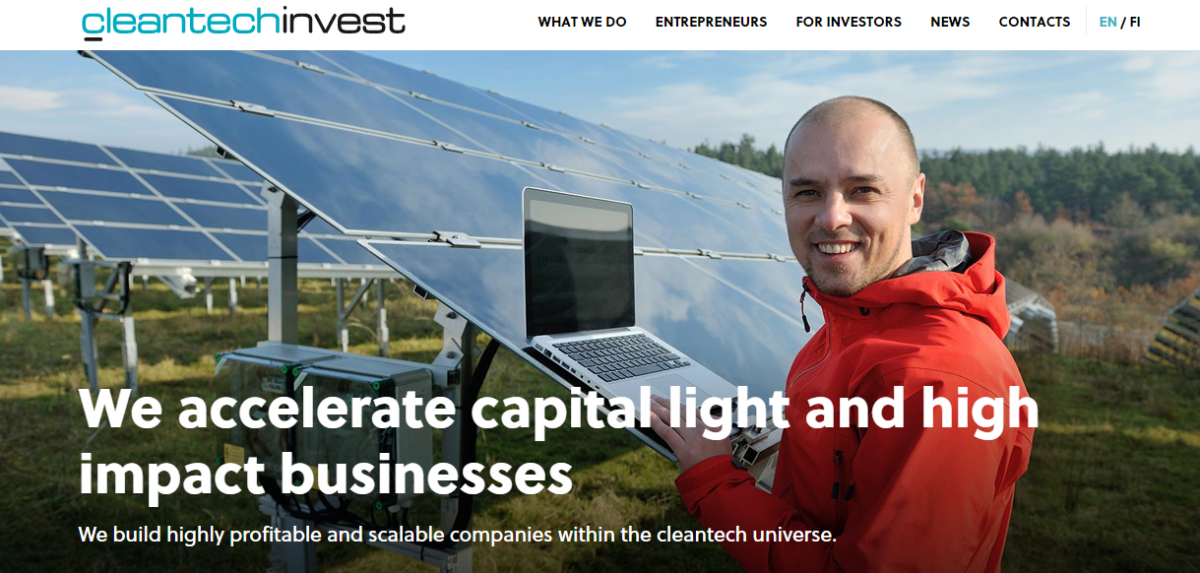 The company invest in both early-stage and later-stage companies, located in Nordic and Baltic area.
If a company partners with Cleantech, they will receive access to their investor network (both public and private), resources and competences for developing business strategy and model and more.
NewCo Helsinki Accelerator (formerly NewCo Factory) is nominated as one of the Top 5 Accelerators in Finland in 2015 by Nordic Startup Award.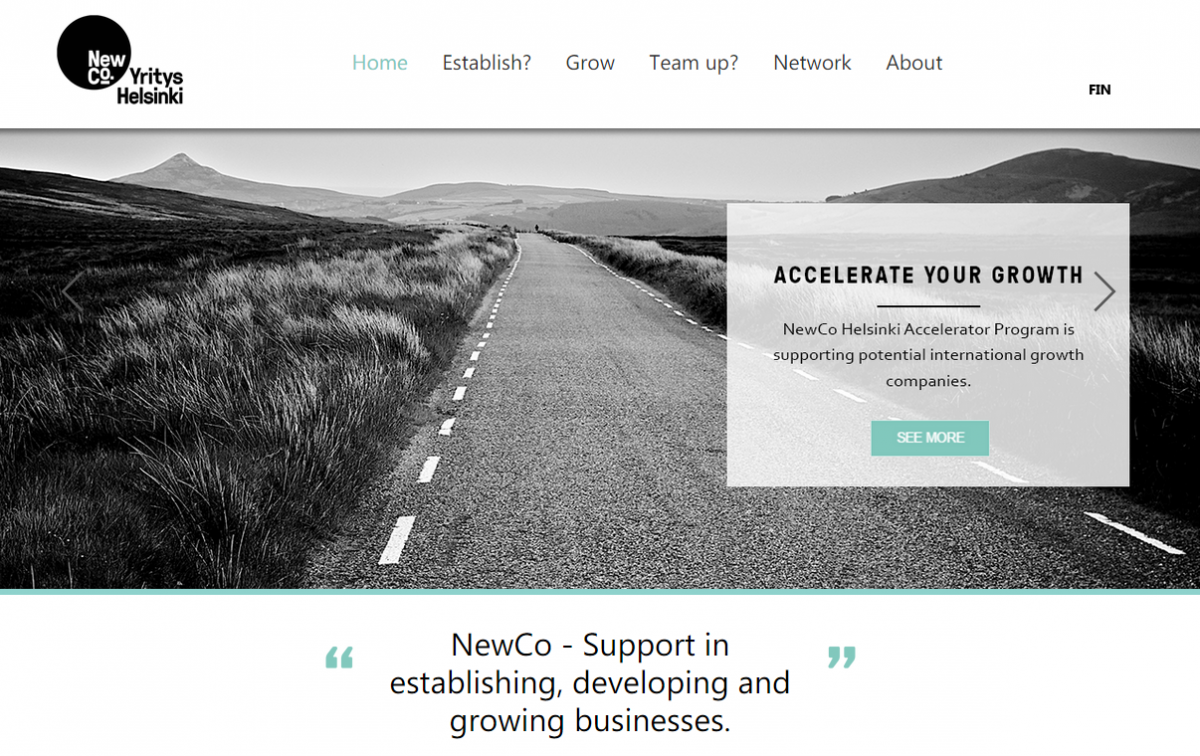 Their mission is to accelerate the development of innovative companies offering resources and opportunities to become internationally successful businesses.
Being recognized as "Finland's best Service Provider" for startups in 2014, the aim of the program is to unlock local talents, bring international investors and educators and support potential growth companies.
They accomplish this by offering young companies support and help in mentorship, networking, and access to seed funding.
As a student-based network for young entrepreneurs, the aim of Boost Turku is to provide resources and competences for supporting startups in Turku. According to Nordic Startup Awards, Boost Turku has the best accelerator program in Finland.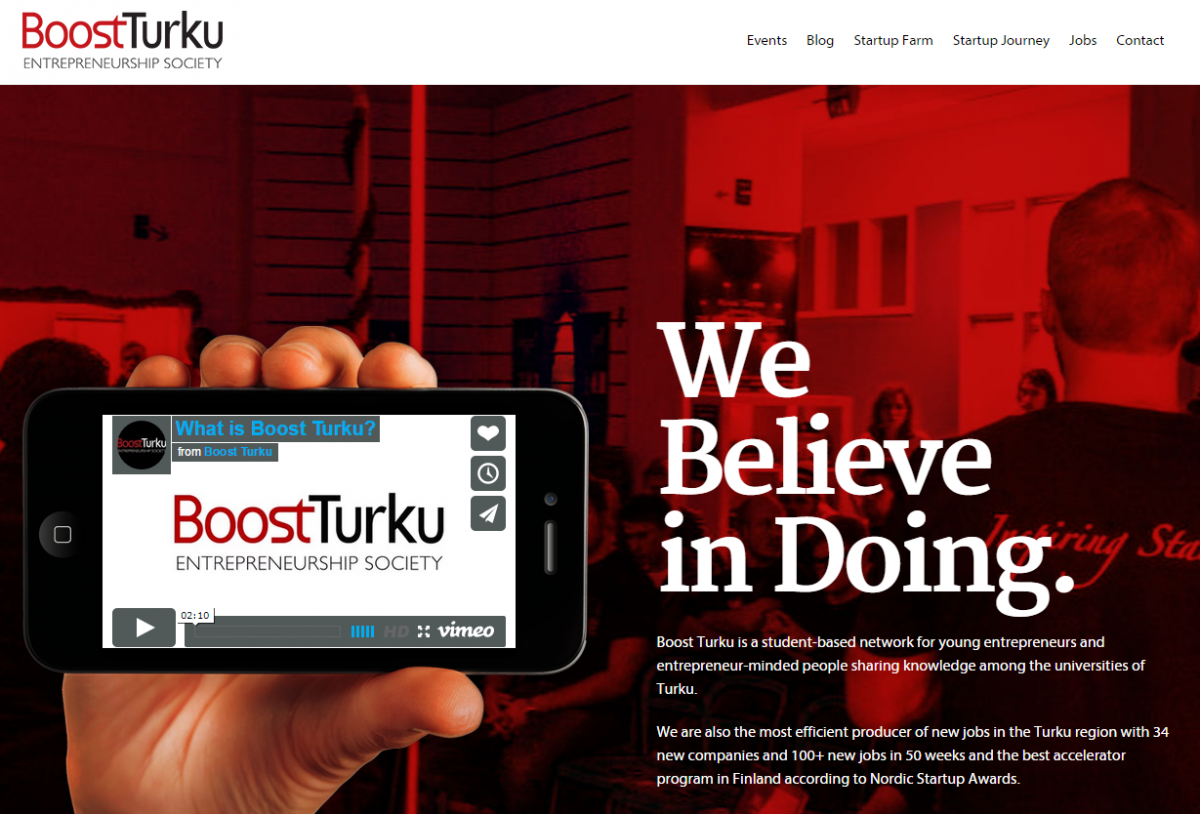 The community offers a ten-week accelerator program for early stage startups, called Startup Journey. The programs offers coaching on various topics (sales, marketing, legal issues, pitching) from the experienced coaches and mentors and a full access top Boost Startup Farm's co-working space.
The selected startup also have an opportunity to networks and learn from experienced entrepreneurs having access to key-note and networking events around Finland.
Until now, they have been the most efficient producer of new jobs in the region (34 new companies).
Gorilla Ventures is a startup accelerator that support young companies through seed investment, resources and business development.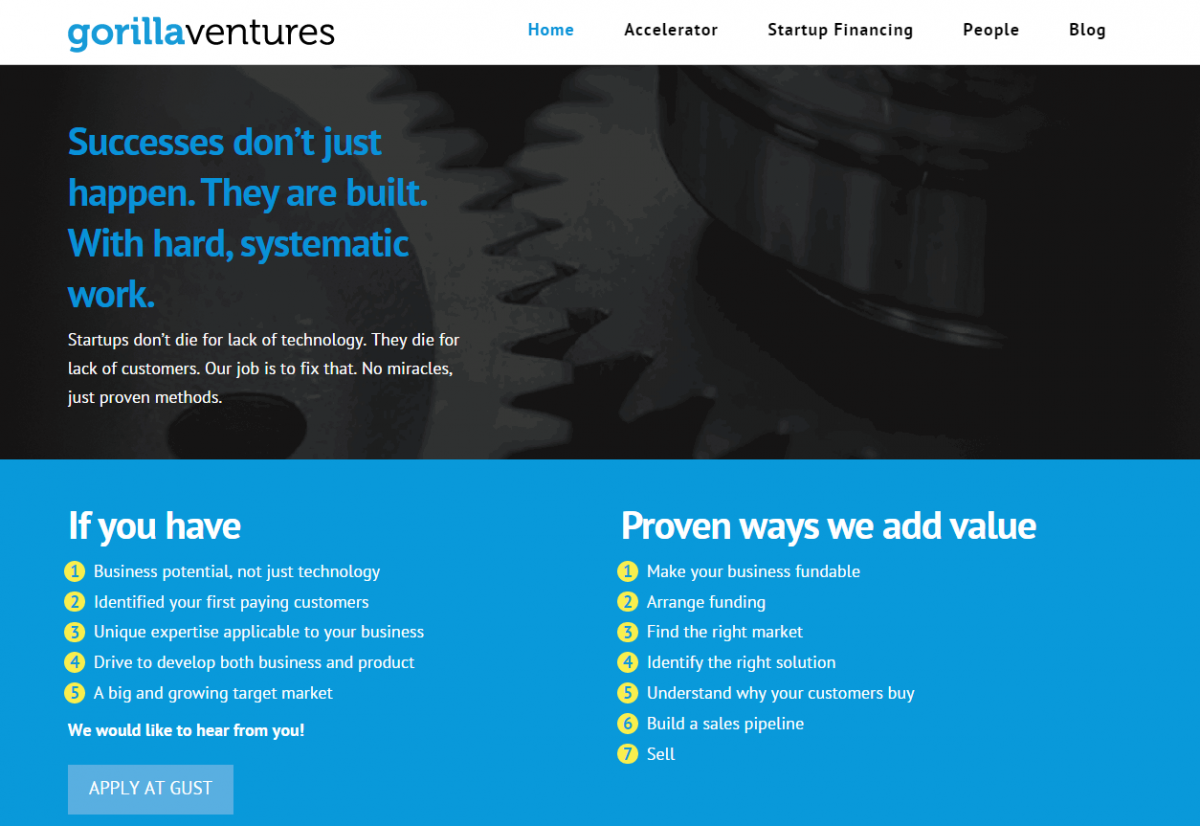 Startups receive support for 24-48 months with hands-in approach, equipped with resources to develop their business concepts from idea to scalable, successful business.
Their goal is to help startups through different phases of development, whether it's marketing, strategy or sales.
Vigo is an acceleration program created to bridge early stage technology companies and international venture funding. But the program is specific as it is formed by Vigo accelerators (for instance, KoppiCatch, Cleantech and Gorilla Ventures, to name a few).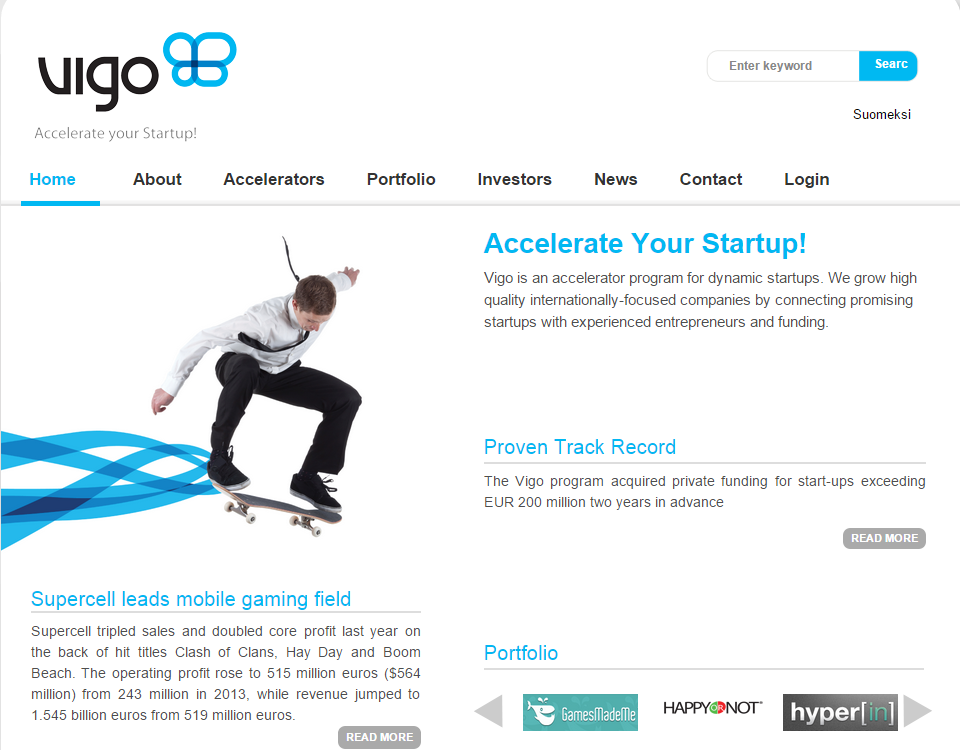 These independent companies are carefully selected and run by experienced entrepreneurs and executives who are internationally recognized experts.
The Vigo program was launched in 2009 by the Finnish Ministry of Employment and Economy.