A Beginners Guide to Knowledge Networks

Posted by

TallyFox

on 24 June 2015
Knowledge is a critical asset.
Tools and platforms that encourage creation and dissemination of knowledge empower all of us to collaborate and communicate productively.
As time goes on and business landscape changes, individuals, teams and businesses are looking for ways to invent new knowledge and reuse a body of knowledge, but do you understand what is knowledge sharing?
We seek Anywhere and Anytime in business. 
Networking and exchanging ideas is possible due to technology and seamless access to valuable data and content.
How? Anywhere and Anytime are achievable within open virtual environment. Knowledge networks are the virtual environments that enable result-driven actions.
What truly is their purpose?
Is it to exchange content and valuable information?
Is it to form partnerships?
Is it to foster interaction among users?
Is it to enhance personal learning and collective knowledge?
If you are new to the concept of knowledge networks you certainly have many questions and that's why we decided to create this guide.
Why did we write this guide?
We wanted to provide more information and help you understand how you and your business, organization or a project can benefit from a knowledge network.
With so many businesses and organization (and individuals) seeking effective collaboration and communication tools today it's necessary to opt for a result-driven tools in which both knowledge and community constantly grows and evolves.
You need to understand the power of collaborative technology and this guide will help you.
Who is this guide for?
If you are starting your business, this guide is for you. If you are already involved in a project or an organization, but need more effective ways of communication and collaboration, this guide is for you.
This guide is for anyone looking to take advantage of knowledge networks.
Whether we speak about governmental or private organizations and companies, non-profit or for profit organizations, knowledge networks bring together the right people, with the right skills and knowledge, at the right time.
What will you learn?
You will learn all about knowledge networks. Why you should use knowledge networks, what are the benefits, how are people motivated to join and much more...
What is a Knowledge Network?
Knowledge networks are an old form of organizations, but today, they provide a range of (social) activities that empower communication and collaboration. 
We can define knowledge networks differently, such as the definition below: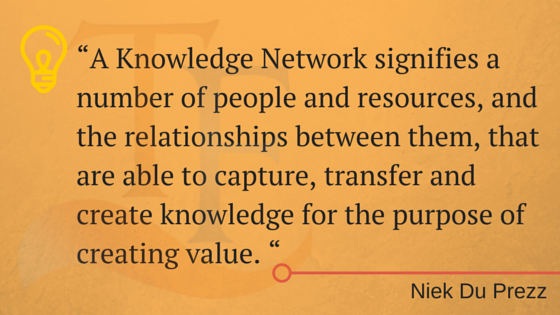 Moreover,
"An Integrated Knowledge Network spans all domains, communities, and trust relationships with the goal of fostering sustainable innovation that will continue to promote the competitiveness of its users", as written by Niek Du Prezz in A Knowledge Network Approach Supporting the Value Chain.
New methods of communication and collaboration add significant value to new knowledge, insights and ideas making knowledge networks a hallmark of high performing organizations.
But regardless of the industry, or the size of the business and organization, everyone can benefit from more agile, more efficient, and more innovative methods of organization and collaboration. Access, creation and dissemination of concepts, insights and best practices should occur without boundaries. 
The benefits of knowledge networks come from:
Accelerated Knowledge Transfer - creating, sharing and applying knowledge
Productivity and Agility - Easier and quicker access to relevant knowledge
Creativity - A diverse groups of people that are self-motivated and enthusiastic are brought together for a common goal
Costs and Optimization -  Costs associated with organizing, finding and leveraging knowledge are minimized
New technologies are making collaboration fast and effective, yet relatively easy and inexpensive. so business, organizations, different industries and individuals (employees) could find effective ways to utilize and apply these technologies in the workplace.
What is the value of participating?
The successful knowledge sharing encompasses three components: people, technology and process. Connected by technology, knowledge networks allow people to build social networks and transfer knowledge.
Having access to new professional contacts, key documents, specific content and expertise relevant to the work, members of knowledge networks can effectively contribute and participate in.
The goal of knowledge networks is to enable members to gain value from participating
. Tweet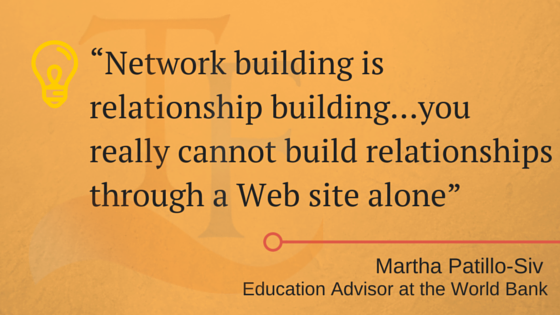 How is this participation enabled?
Knowledge networks have no boundaries.
They are responsive, highly customizable and flexible to be able to offer continuous sharing of knowledge even with those who are outside the organizational stakeholders (independent consultants, for instance).
To foster different organizational mentality and atmosphere, knowledge networks are empowered with various technologies.
Individual technologies
Communication tools such as web-based video and instant messaging tools, and data conferencing tools help the members communicate and collaborate easily.
Group technologies
Bulletin boards, threaded discussions, electronic rooms, digital workplaces serve are used for effective project collaboration, online discussion, management and organization of work and more. Members can easily access and manage content, share documents in various forms, and track tasks, issues, and overall progress.
Enterprise technologies
Communicating and building relationships with employees, customers, consumers, suppliers, investors, strategic partners, even the public is empowered with enterprise technologies.  Such technologies have to provide the means to easily and effectively share, manage, and distribute data and content.
Whether we talk about intranets or enterprise information portals, enterprise technology must link participants, facilitate collaboration and offer harmonized and personalized access and environment. Individual, group or enterprise technologies have to empower productivity and knowledge exchange.
What Is The Value of  These Result-driven Collaboration Tools?
A knowledge network is a group of people who are equipped with tools that enable collaboration, interaction, and sharing of work-related experience, know-how, expertise and resources.
But, every knowledge network is created under a unique set of circumstances.
The value of collaboration tools is seen in addressing different goals, objectives, abilities and timelines.   
That's why collaborative technologies can support, for instance, a formal knowledge network of expert institutions, an individual project, time-bound virtual working group, or a global online discussion forum.
All networks are empowering their members to work together, to communicate and enhance research capacity, share knowledge and create and develop solutions.
Knowledge networks allow users to choose tools that fit their objectives.
Under different circumstances, one can utilize the same collaborative technology to meet the goals. This is especially the benefit of existing knowledge networks that are able to fill a knowledge gap.
What is the advantage of a knowledge network structure?
Collaboration tools bring together interested individuals and organizations who are focused on addressing the challenges and using and sharing the resources available to support their work.
An online discussion forum isn't necessary if you wish to edit a policy document.
Videoconferencing tools are on the other hand necessary if you need to organize an online meeting with your dispersed teams located around the world.
The structure of knowledge networks is goal-driven and focused on clear objectives and established demands. Tweet
Do members of your network speak different languages?
Will the knowledge network be geographically dispersed?
Do you have a governance structure e.g. a steering committee, Board of Directors or advisory group?
Do you need the support of a co-facilitator?
As knowledge networks are focused on providing members with opportunities to solve problems by collaborating, successful knowledge networks are set up with an objective in mind, whether it's a planning a global discussion or to review a policy document.
By setting clear objectives, members can also understand the value of their participations and collaboration.
A Clear Understanding of Objectives, Roles and Responsibilities
Knowledge networks create an environment in which a members should feel comfortable sharing experience, information and knowledge. The facilitator of a knowledge network plays an important role in information distribution, organization of work, members motivation and participation. While knowledge network provides tools for quality communication and cooperation, the facilitator needs to create a comfortable environment for the users.
This is the role of the facilitator:
To present the clear objectives of the knowledge network
To support focused and active participation (discussions, meetings, forums, conferences, etc.)
To provide participation opportunities for all members (guidelines for participation)
To enable active communication
To offer technical support (guides, tutorials, etc.)
The facilitator will use different methods to create a proactive environment and these methods will depend on the specific needs of the knowledge networks.
What is the benefit of a knowledge network environment?
In 1999, Joseph Stiglitz, former chief economist of the World Bank, at the First Development Network Conference (Bonn, Germany), said: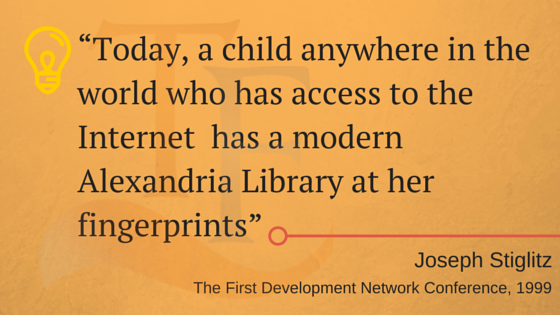 According to the report, at that time, there were 800 million web pages representing 6 terabytes of data.
The Internet is a tool that enables discovery, publication and application of new knowledge. Moreover, information technologies play a significant role in social, economic, political and cultural development.
Targeting users from all around the world
Knowledge networks have power to bring people together in a response to a real need. To share knowledge and address problems and issues, people come together across organizational, spatial and disciplinary boundaries.
World Health Organization currently has 9 knowledge networks created to address social exclusion, public health, women and gender equality, child development, urbanizations, health system, employment and   methodology and measurements tools.
A great engaging example on how to utilize the power of knowledge networks is Women's World Banking, a global nonprofit focused on providing low-income women with access to financial resources and tools. The organization works closely with 39 leading microfinance institutions from 28 countries.
The Knowledge Network for Biocomplexity (KNB) is created for scientist to share, discover, and access complex ecological data, and international respiratory for ecological and environmental research.
Institutions, organizations, companies and individuals bind by the same objective can organize themselves in a worldwide knowledge group in order to address the problems and issues.
One such great example is The Water Network, built by TallyFox, the largest global knowledge network for water professionals that brings together companies from 180 countries. To address the issues related to safe water and sanitation, 8000 companies , 110 technology volunteers, and a vast number of advisors and professionals are brought together from all around the world. By now, the network directly influenced 9 million knowledge workers.
Knowledge networks are proof that "knowledge belongs to humanity, and thus science knows no country and is the torch that illuminates the world", as Louis Pasteur put it. 
Motivating Members To Participate
A group of people with shared expertise and passion linked together into a knowledge network can accelerate knowledge sharing, improve and change important business processes and collaborate freely across geographic and organizational boundaries.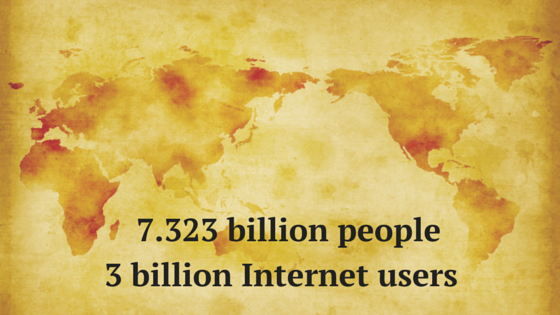 But, some people might find knowledge networks confusing,  intimidated by new ways of communication and they might ask: Why should I join?
While you as the facilitator have a responsibility to keep your members engaged, knowledge network are equipped with tools to keep members involved, emphasizing their important role and contribution to the community.
Whether we consider monthly e-newsletters, monthly or annual summaries of information, bi-annual videoconferences,  webinars and other important documentation that can easily be distributed, the key is to help the members understand how their participation is important.
Knowledge networks provide effective tools to overcome language barriers, for instance, such as options for changing language settings within the network. Or, creating a language-specific community to encourage a dialogue on different languages.
"Networks, formal and informal, local and global, are increasingly important channels for pursuing policy goals in a globalizing world", wrote Jan Wouters in his foreword to a 2011 United Nations publication Networks for Prosperity.
How knowledge networks enable monitoring and evaluation?
The members of  knowledge networks have many benefits from participation, to name a few:
● sharing knowledge and experience with professionals and leaders in the industry
● accessing  professional networks that are valuable for their work
● participating in the conference or global discussions
● accessing information of value for their professional work
● discovering solutions for the problems and exchanging ideas
● contributing to different projects and initiatives
How can you measure if the knowledge network is meeting the objectives, goals and needs of the members?
While there are no specific indicators and quantitative and qualitative methodologies, depending on the knowledge network, you can still monitor and evaluate the activities.
With periodic member surveys, interviews among groups, monitoring the number of the website hits, the number of countries, contributors, participants, documents uploaded, and more, you can gain valuable insights.
Evaluation helps knowledge networks achieve better organization and value, but methods to do so may differ from industry to industry.
For instance, Johns Hopkins School of Public Health Center has produced the Guide to Monitoring and Evaluating Health Information Products and Services valuable for those involved in health information services and products. The guide describes 29 indicators to measure Reach, Usefulness and Use, and collaboration and capacity building.
With these 29 indicators (or less), one can measure the extent to which the information is distributed, the quality of information products and services in terms of practice, and the way in which information products or services are applied to bring change.
The value of summary reports and survey results can be later used differently, as valuable information that can be shared,as an evidence or members' participation and contribution, and more.
A knowledge network should come with a basic set of site monitoring metric, which is usually the case with the existing knowledge networks, or you (or an external consultant) can create more comprehensive metrics.
Why Knowledge Networks?
Knowledge networks have tremendous potential to accelerate and improve knowledge sharing, and collaboration and communication.
But if successful knowledge networks are to provide value, they must involve three important factors: people, process and technology.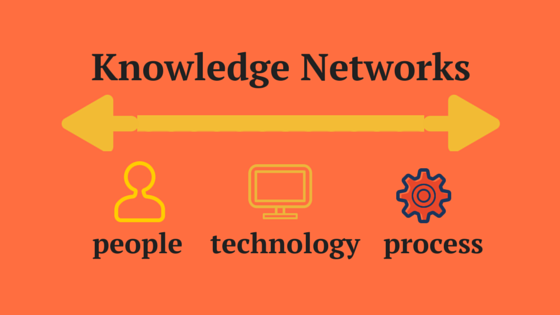 Do you need a knowledge network? We can help you with that.
TallyFox can help you create your own powerful knowledge network platform, with integrated content, project and knowledge management, unlimited workspace subdomains, fully customizable to your branding and community needs. Our networks serve the needs of companies, communities of interest, geographical regions, or industry sectors.
Knowledge networks are key drivers in today's world.
If you want to drive change to your businees or organization, you should take advantage of collaborative technology.